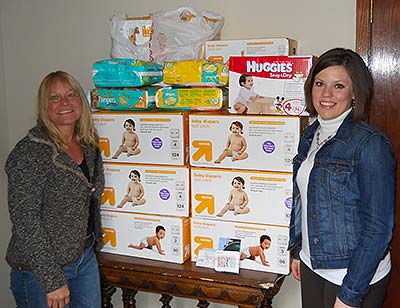 Alerus Financial staff donates diapers, gift cards and cash to Lutheran Social Services Healthy Families program
Miriam Troitte, a trust specialist with Alerus Financial in Grand Forks, decided to help add a new dimension to the bank's Northern Valley Holiday Party by arranging to collect donations of diapers, gift cards and cash for needy families at this year's gathering.
Alerus Donation
As a result, Alerus employees recently donated 2,013 diapers (15 cases), $280 in gift cards for gas and groceries and $205 in cash to Lutheran Social Services Healthy Families.
According to Jody Bettger-Huber, program director, the donations will go to help client families under financial stress on a case by case basis. Lutheran Social Services Healthy Families is a free, voluntary, in-home family support service that helps at-risk parents create a healthy, nurturing home for their children during the first two years of life.
Assisting in coordinating the donation arrangements from Lutheran Social Services were Jolaine Knain, family support worker in Grand Forks, and Theresa Flitter.
"This generous donation from the employees of Alerus Financial will make a difference in the lives of many at-need families," Jody noted. "We appreciate their generosity and urge others who may be interested to contact us about donating, as well."
Jody can bre reached at jbettgerhuber@lssnd.org or 701-530-2512.