Grand Opening of Summer Square Apartments in Maddock, ND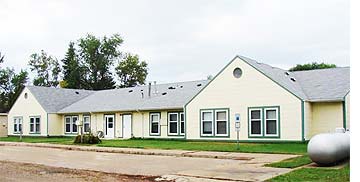 A ribbon cutting and public open house on Nov. 29 marked the grand opening of the new Summer Square Apartments in Maddock, ND. Located at 205 Central Avenue, the apartments are an innovative rehabilitation project by Lutheran Social Services Housing, a subsidiary of Lutheran Social Services of North Dakota.
Summer Square Apartments provides affordable, spacious apartment homes appropriate for a wide range of individual residents and working families, according to Jessica Thomasson, director, Lutheran Social Services Housing. A recent Maddock Housing Committee housing market analysis indicated a demand for workforce housing and spurred the redevelopment of the apartments.
The newly renovated complex features eight two-bedroom and three-bedroom units, all on one level with off-street parking for residents and a convenient location near downtown. The building has been completely renovated, with the heating system, siding, roofing, windows and unit configuration all updated.
The apartments are not income targeted. However, the rents have been set by Lutheran Social Services Housing so that they are affordable.
The redevelopment was made possible with financial support from both public and private partners.