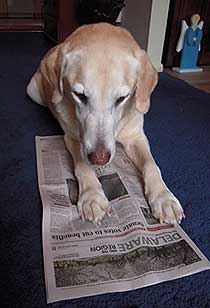 Volunteer Opportunity:
Do you know a newshound
who loves detective work?
Do you have an older parent, grandparent, relative or friend who is looking for a fun, low-pressure volunteer project that can be done at home or at Lutheran Social Services' Fargo Program Center?
Qualifications are: sharp mind, likes to read, thrives on local politics and business and owns a pair of scissors! Hours: about 2.5 per week, flexible to the volunteer's schedule.
Lutheran Social Services Housing subscribes to dozens of 'hometown' North Dakota newspapers that contain information crucial to understanding how and when to build new housing in the many rural communities. Following the political, town and economic happenings in these communities has been the cornerstone of Lutheran Social Services Housing's success as Jessica and other staff travel the state to meet with community leaders. Since these newspapers are not available on the Internet, they must be read the old fashioned way. There is a method for selecting and clipping the important articles which then get turned into a master travel book that Jessica Thomasson takes with her when she hits the road to design new housing projects.
If you or someone you know might like to volunteer for this project, please contact Lisa at (701) 271-3282 or lrichmond@lssnd.org.