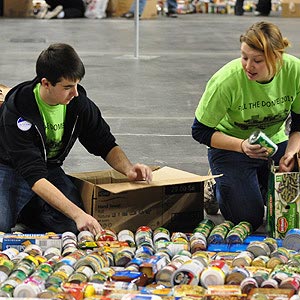 Letter to the editor
Thanks to Fill the Dome volunteers and donors
Fill the DomeOn behalf of the one in 11 people who turn to food pantries, soup kitchens and emergency shelter programs each year to meet their hunger needs, we extend our thanks to the Student Ambassadors from Fargo, Moorhead, West Fargo and surrounding areas who so skillfully spearheaded the fifth annual Fill the Dome event. Because of their leadership, and the generosity demonstrated by businesses, schools, churches and individuals residing in Cass and Clay counties, an incredible 80 tons of food and $80,000 was collected—providing 443,000 meals to those struggling with hunger.
Dome filling volunteersThis project is so much more than a food drive; it's a communitywide showcase of our young leaders. They are passionate and dedicated as they lead by example and mentor younger students and adults alike. They teach us that no problem is too big, no idea too crazy; nothing is unattainable.
The Great Plains Food Bank, a program of Lutheran Social Services of North Dakota, is one of the beneficiaries of this tremendous effort. We share our thanks and gratitude for being part of a community where neighbors still help neighbors. We see firsthand how the results of this event impacts lives. Children will go to bed with full tummies. Seniors won't have to choose between buying groceries and medication. Hardworking parents will be able to put food on the table for their hungry families. And people living in under-served communities across North Dakota will now have access to food resources through the Great Plains Food Bank's rural outreach programs.
All the Cass-Clay emergency feeding programs were supported by this year's event and include:
Bread of Life Food Pantry; Churches United for the Homeless; Dorothy Day House & Food Pantry; Emergency Food Pantry; Family Worship Center; First Assembly of God Food Pantry; Gladys Ray Shelter; Great Plains Food Bank/Daily Bread/Cass Clay BackPack Program; Latter Rain Ministries; New Life Center; Peace Lutheran Church Food Pantry; REACH Food Pantry; River Valley Church Food Pantry; Rural Cass County Emergency Food Pantry; The Salvation Army; SENDCAA; Tri City Haitian Ministry; YWCA Cass Clay.
Again, our thanks and admiration is extended to the youth of this community who stepped up as leaders and moved us a giant step closer to a hunger-free community.
Steve Sellent
Program Director
Great Plains Food Bank, a program of Lutheran Social Services of North Dakota