Great Plains Food Bank, a program of Lutheran Social Services of North Dakota
Celebrating 30 years of serving the hungry
The Great Plains Food Bank, a program of Lutheran Social Services of North Dakota, observed its 30th anniversary with an open house and ribbon cutting Wednesday, May 1.
As North Dakota's only food bank, it has supplied more than 100 million meals to children, seniors, and families in need over the past 30 years.
In his welcoming remarks, Great Plains Food Bank Director Steve Sellent said the next 30 years will include special programs that focus on seniors, children and people in rural areas. "We also want to go beyond feeding the hungry and address the causes of hunger with the goal of shortening those lines."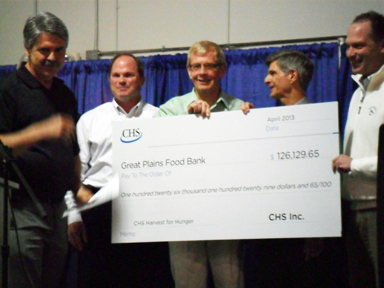 Paul Aladin, director of Tri-City Ministry Food Pantry, which partners with the Great Plains Food Bank, said "Together, we are stronger; together, we will end hunger."
CHS, Inc., a global agribusiness with service centers in North Dakota, presented a donation of $126,129.
"That says about half a million meals for people in need," Steve said. "So, thank you so much."