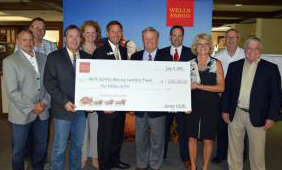 July 10, 2015 – Wells Fargo Bank helped jump start the Housing Incentive Fund (HIF) yesterday, presenting a $1 million check to members of the state's Industrial Commission. HIF relies on taxpayer support to provide low-cost financing to developers of affordable multifamily housing.
Lutheran Social Services Housing received three of 24 HIF awards to build affordable housing units in Watford City, Beulah and Harvey.
"We are so excited to have the opportunity to work with these communities to help address their need for affordable housing," said Lutheran Social Services of North Dakota CEO Jessica Thomasson. "Our agency received HIF awards totaling just over $5 million, so we will be inviting people interested in supporting this work to consider making a contribution to the HIF program in the coming months. Once we secure the support from individuals and businesses who want to designate their tax dollars to this program, we will be able to start construction."
The 24 projects, located across the state, will split $34.7 million leveraging $181.5 million in development costs and creating 985 housing units. Approximately one-third of the developments will provide housing for special needs households including disabled, homeless and elderly individuals and families.
"Thank you to Wells Fargo for this generous contribution to help launch the new round of funding for the Housing Incentive Fund," said members of the North Dakota Industrial Commission in a joint statement. "We truly appreciate the individuals and businesses who have stepped forward to support our efforts to strengthen North Dakota communities and ensure the availability of affordable housing for all."
"We look forward to hearing from more of our past contributors and encourage new businesses and individuals to support the Housing Incentive Fund so we can move these projects forward," said Jolene Kline, NDHFA executive director.
Watch for updates regarding these three Lutheran Social Services Housing's projects on our website and social media.
For more information about Lutheran Social Services Housing, call (701) 271-3282 or lrichmond@lssnd.org.
More information on HIF is available online at www.ndhousingincentivefund.org or by contacting NDHFA at (800) 292-8621 or hfainfo@nd.gov.
Some information and photo for this release from the North Dakota Housing Finance Agency.