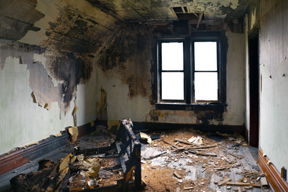 Did you know that more than 60 percent of U.S. tenants do not carry renters insurance? When you find out how inexpensive and simple it is to buy this peace of mind, you won't want to be one of them. Make a resolution this new year to protect all you own in this way.
The reasons householders say they don't have renters insurance range from tenants thinking that coverage is too expensive to thinking that their landlord's policy will cover all their belongings if drastic damage befalls their unit.
Nothing could be further from the truth on both counts. First, renters insurance is affordable for everyone. Second, your landlord has no responsibility for replacing your furniture, clothing or any other lost items if a fire, bad storm, or theft were ever to hit your household.
Only a renters insurance policy that YOU purchase will allow you to replace what you own. And most of us own thousands of dollars worth of stuff, even when we are young and starting out. Start making a list of what you see around you in just one room and add up what it would cost to replace it. This will give you an idea of what people face when they lose everything in a catastrophe. If you were dealing with something that stressful, wouldn't you at least like to be able to replace what you and your family need immediately?
The good news is it's very easy to protect yourself. Many people are able to purchase renters insurance for well under $200 a year. And many of us pay just a small amount every month, turning it into an expense that's hardly even noticeable.
Take my own policy. As a renter I pay just over $12 per month for modest coverage that nonetheless would replace all my basics—furniture, kitchen goods, clothes and electronics—should a fire or tornado ever demolish my unit. On top of that, my policy provides me with $100,000 in liability coverage, in case I am ever sued by someone for an accident or harm they suffer while in my apartment. And there is even some coverage for temporary hotel and food replacement expenses, should I ever need to move out of the unit for a week or so due to damage. Finally, if you have a high-dollar precious item you would hate to lose—such as a diamond engagement ring—you can ask your agent to add a "floater" to your policy. Floaters are purchased for a small fee in addition to your policy premium, and allow you to schedule replacement coverage for a specific costly item.
In addition to being easy on the pocketbook, renters insurance is simple to buy. Just contact the agent who already handles your auto or truck coverage and say you would like to add a renter's insurance policy to your account. Your agent can arrange for your renters insurance premiums to be pulled automatically from your checking account on a monthly basis, just like any other bill. Or, you can pay for your policy on an annual basis, which may win you an extra discount.
Either way, at less than $200 per year for many of us, renters insurance is a true no brainer - one of the easiest and wisest investments you will ever make.
Lisa Richmond manages community partnerships and outreach for Lutheran Social Services Housing, a non-profit builder and property manager. She can be reached at lrichmond@lssnd.org.