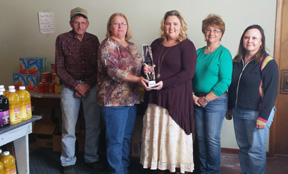 (October 10, 2014) - The Great Plains Food Bank, a program of Lutheran Social Services of North Dakota honors the Mott Food Pantry as its 2013 Agency of the Year. This is the highest honor given to one of the Great Plains Food Bank's 300 hunger relief partner agencies. Great Plains Food Bank presented a trophy to the Mott Food Pantry Board, Oct. 9, during a board meeting at the food pantry, 212 Iowa Ave, Mott, N.D.
The Mott Food Pantry provides food assistance to individuals and families in need. A number of letters written in support of the pantry highlighted the diabetic food selection the pantry has available for its clients; this is one thing that made the Mott Food Pantry stand out above other nominees. It also assists families with young children by offering diapers and formula.
"The Mott Food Pantry is committed to meeting the needs of its community," said Melissa Sobolik, director of agency and client services for the Great Plains Food Bank. "It makes sure no one in the Mott community goes hungry and is always looking for ways to improve the organization and its services."
The Mott Food Pantry has worked hard to educate the community on the importance and need of the pantry, which, in turn, has gained wonderful support from the community, including churches, the school and the business community.
Agencies are nominated each spring by a volunteer or community member who believes the agency goes above and beyond to serve clients and help eliminate hunger. The 2013 nominees were McKenzie County Food Pantry (Watford City), Thompson Food Pantry (Thompson), Tri City Haitian Ministries (Fargo), Ransom County Food Pantry (Lisbon) and Mott Food Pantry (Mott). Past winners include the May-Port Food Pantry, Belfield Medora Food Pantry and Cando Food Pantry. Nomination packets were reviewed by a panel of Great Plains Food Bank staff and statewide hunger advocates.
Pictured above, from left: Jerry Rokusek (Mott Food Pantry board member), Sue Kilzer (Mott Food Pantry board member), Rachel Monge (Great Plains Food Bank representative), Connie Haberstroh (Mott Food Pantry board member), Randeen Schulz (Mott Food Pantry board member). Not pictured from the Mott Food Pantry are Doug Wegh and Pastor Corey Warner.