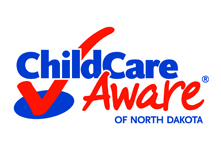 Play provides children with learning opportunities that often go unnoticed by adults. Child care providers, early learning professionals and parents will learn ways to recognize and encourage play-based learning at an upcoming workshop, "Be a Professional Play Technician," featuring play professional Jeff Johnson.
Child Care Aware®, a program of Lutheran Social Services of North Dakota, is hosting this workshop at three locations:
• Tuesday, April 22, from 6:30 to 9:30 p.m. at the Strom Center in Dickinson, N.D.
• Thursday, April 24, from 6:30 to 9:30 p.m. at Gloria Dei Lutheran Church in Williston, N.D.
• Saturday, April 26, from 9:00 a.m. to 3:45 p.m. at First Lutheran Church in Minot, N.D.
"It's sometimes difficult for adults to see the learning that takes place during play because it is often unstructured and random," Johnson said. "Play-based learning is rich with opportunity. For example, a two-year-old goofing around with a hunk of Play-Doh is building large and small muscles, learning one-to-one correspondence, honing hand-eye coordination, practicing visual tracking, learning to understand the difference between positive and negative space, grasping concepts like over and under or long and short, learning about cause and effect and much more."
Johnson has 16 years of experience working directly with young children and is the author of several books, including Babies in the Rain, Do-It-Yourself Early Learning and Let Them Play. During his workshops, he shares the value of play and ways adults can encourage play in an early childhood setting. Participants at this fun-focused event will go home with new ideas for supporting play-based learning.
The registration fee for the three-hour workshops in Dickinson and Williston is $23 ($28 after the April 14 early deadline). The fee for the six-hour workshop in Minot is $45 ($55 after the April 16 early deadline). Continuing education credits are available for an additional fee.
Workshop information and registration are available online at http://www.ndchildcare.org/events/calendar.html or by contacting Missy Herman at 701-530-2504 or mherman@lssnd.org.