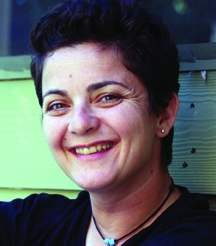 Fargo, N.D.—Luma Mufleh, a social entrepreneur who is building the Fugees Academy, the first U.S. school for refugee children, will be keynote speaker for the 2014 Building Bridges Conference, April 8-9, at the Fargo Holiday Inn. The conference is presented by Lutheran Social Services New Americans.
The Fugees Academy offers an intensive college-prep curriculum that meets the needs of refugee children who have come to the United States with little English or formal schooling, but the hope of a better life.
Mufleh also coaches the Fugees, a soccer team composed of players from 28 war-torn countries. Recognizing the unique needs of refugee children, Mufleh started the team in 2004 when she distributed flyers in multiple languages in areas where refugees lived.
Mufleh's previous endeavors to employ refugees and immigrants in her community include a cleaning service and a food truck business that focuses on authentic, ethnic street food.
The Building Bridges Conference is held annually to provide information and support to communities to aid in the delivery of services to refugees and other immigrants. This year's theme is "Welcoming America."
Other presentations include training for working with individuals who have suffered trauma and a session about self care when working with survivors of trauma and torture. Cultural presentations will be given on Iraq, Bhutan, Congo, Liberia and Somalia.
The Building Bridges Conference is hosted by Lutheran Social Services New Americans, North Dakota Department of Human Services, North Dakota Department of Public Instruction, and City of Fargo Human Relations.
For more information, go to http://www.lssnd.org/new-americans/
Arrangements for the appearance of Luma Mufleh made through Greater Talent Network, Inc., New York, NY