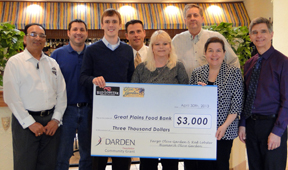 (Fargo, ND) – April 30, 2013 – The Great Plains Food Bank, a program of Lutheran Social Services of North Dakota, received a $3,000 grant as part of the Restaurant Community Grants program from the Darden Foundation, the charitable arm of Darden Restaurants Inc. Funds awarded will support the Great Plains Food Bank's perishable food recovery efforts in the Fargo-Moorhead and Bismarck-Mandan communities. This effort rescues surplus meals, produce, dairy, meat and bakery items from restaurants, grocery stores, hospitals and colleges and distributes it to food pantries, shelters and soup kitchens that serve the hungry and homeless. In 2012, enough food for more than 2.1 million meals was distributed.
"Our food industry partners are instrumental in our work to end hunger," said Steve Sellent, program director for the Great Plains Food Bank. "Not only have Red Lobster and Olive Garden restaurants chosen us for this financial gift, but they generously donate to us, rather than dispose of, their surplus food products. These gifts are impacting the lives of thousands of children, seniors and working families struggling with hunger, and for that we are so grateful."
The Darden's Restaurant Community Grants program, now in its second year, empowers each restaurant in the Darden family of brands to help award a $1,000 grant to support local community programs. Darden's Olive Garden and Red Lobster brands participated in the program for this award to the Great Plains Food Bank. Nationally, Darden Restaurants will award more than $1.9 million to more than 850 exceptional nonprofit organizations in the U.S. and Canada. Nonprofits receiving grants support one of Darden's three key focus areas: access to post-secondary education, preservation of natural resources and hunger.
Pictured from left are AK, Fargo Olive Garden manager; Damion Nystrom, GPFB; Deano Handt, GPFB; George, Fargo Red Lobster manager; and Steve Sellent, GPFB. Holding the check are John, Fargo Red Lobster manager; JoAnn Matthews, GPFB; and Susan, Bismarck Olive Garden manager.