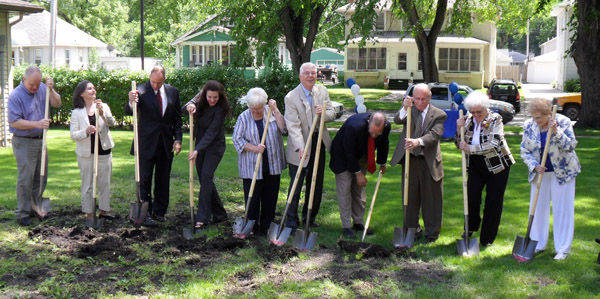 FARGO – A ground breaking ceremony today marked the beginning of construction for renovation and an addition to Lutheran Social Services Luther Hall, a psychiatric residential treatment facility in Fargo for 16 youth from across North Dakota that has been in operation since 1962.
According to Jennifer Mitchell, administrative director of Lutheran Social Services Luther Hall, "This renovation will provide our program with more adequate light, sound control, resident room sizes, counseling and activities space. A much needed elevator, improved heating and ventilation and a chapel are among the other improvements we will see. A 6,500 square foot addition to the facility will also offer art and music therapy rooms and more treatment spaces."
Funding for the $1.5 million combined renovation and new construction project comes from donors to Lutheran Social Services' Abound in Hope capital campaign.
"Even though we still have about $500,000 of the $1.5 million to raise, we are stepping forward with this project because we have an opportunity to house our residents at Prairie St. John's Hospital at this time during the renovation," noted Dennis Aune, director of the Abound in Hope capital campaign. Another $5 million is being raised by the agency's capital campaign for construction of a new administrative and program center for Lutheran Social Services of North Dakota in Fargo.
Attendees were each given a piece of stained glass similar to that in the stained glass window featuring the Abound in Hope logo. Lutheran Social Services CEO Robert L. Sanderson told the group that the broken glass signifies the broken lives of the young people who come to Lutheran Social Services Luther Hall, while the stained glass window signifies how the agency's capital campaign is helping to put many lives back together.
Bishop Bill Rindy of the Eastern North Dakota ELCA Synod offered an opening prayer and Bishop Mark Narum of the Western North Dakota ELCA Synod led the ground blessing and ground breaking ceremony.
Contractors on the project are JLG Architects and Roers Construction, Fargo.
Lutheran Social Services Luther Hall serves youth age 10 to 18 diagnosed with emotional, behavioral, substance abuse and academic problems and needing 24-hour care and treatment. The program offers individual, group and family psychotherapy, structured recreation and on-site classroom education.
Lutheran Social Services of North Dakota is a statewide social services agency serving thousands of North Dakotans in need with nonprofit affordable housing, food, disaster recovery, counseling and therapy and other programs that strengthen individuals, families and communities without regard to clients' race, religion, gender or economic status.
##
FOR ADDITIONAL INFORMATION, CONTACT:
Jennifer Mitchell, Administrative Director, Lutheran Social Services Luther Hall
jmitchell@lssnd.org
1505 5th Ave. S.
Fargo, ND 58103
701-297-6161
Dennis Aune, Director, Abound in Hope Capital Campaign
Lutheran Social Services of North Dakota
daune@lssnd.org
745 45th St. S., Suite C
Fargo, ND 58103
701-271-3217
Kathryn Trill, Communications Manager
Lutheran Social Services of North Dakota
ktrill@lssnd.org
701-271-3289 (Fargo)