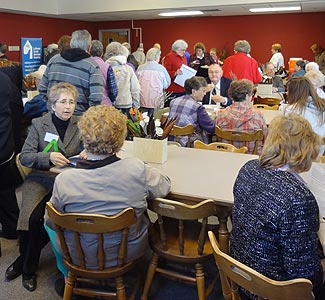 Potential new residents attend successful open house for Lutheran Social Services Legacy Living—Jamestown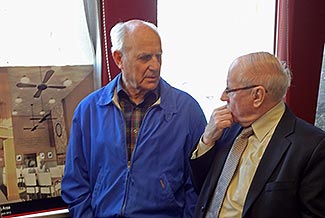 More than 225 people attended an open house April 11 in Jamestown to learn more about the new Lutheran Social Services Legacy Living apartments being created through renovation of the former Jamestown Hospital.
A total of 51 rental units will be available to residents 55 and older. While the nonprofit affordable housing project—the first for seniors by Lutheran Social Services Housing—offers completely independent living, residents will also be able to add meal plans, health and personal care assistance plans on a month-to-month basis any time they are needed. The project's design is part of the new international "aging in place" movement, in which rental homes are designed to accommodate the changing needs of seniors so they can remain in the same apartment for many years.
Optional home health care packages will be provided by Jamestown Regional Medical Center's (JRMC) home health program and the flexible meal package on site will be managed by Jamestown's Classic Catering, the facility's permanent chef.
Lutheran Social Services Legacy Living will also offer a 100% satisfaction guarantee. If within the first 30 days of residency, a tenant is not happy with his or her unit, the household may move out—no questions asked and with no financial penalty.
The renovated building will include community rental space that will be the new home of the James River Senior Center and all its services, including Lutheran Social Services Senior Companions program, and a large child care center with expansive outdoor playgrounds. JRMC's Wellness Center, offering cardiac rehab and gym facilities with regular yoga and Pilates classes, will remain on-site, offering Lutheran Social Services Legacy Living residents a discounted membership so exercise at home can become an easy daily practice.
Applications for the new apartments are being accepted as of May 1 with move-in slated for the Christmas holiday season of 2012. For rental packets, please contact 701-271-3207 or housing@lssnd.org.